Body Contouring Treatments
Body Contouring encompasses a variety of procedures that enhance the appearance of the face and body. At The Skin Renewal Center in Montrose, Houston, we specialize in non-invasive fat reduction and skin tightening. Radiofrequency energy can be precisely delivered to lax skin, cellulite, and fat with improvement in skin tightness, tissue integrity, and at last, but not least, the elimination of fat cells.

The non-invasive techniques you'll find at our Houston medical spa have virtually no downtime. Downtime results in reduced activity or productivity due to the effects of a procedure. No-downtime means "Not missing a beat." For each of our treatments, we thoroughly explain the options available, possible side effects, expected results, and price. In addition to improving appearances, our Montrose, Houston medical spa strives to provide a smooth and enjoyable experience without surprises.
Non-invasive fat reduction and skin tightening (no downtime!)
Non -invasive skin tightening and fat reduction are a series of treatments (usually 4-6) that usually last 30-45 minutes. Patients feel a pleasant warmth likened to a warm stone massage. There is no downtime, and results become evident as soon as 2-3 treatments. Looking good could not be easier.
Vanquish ME is the most comfortable and effective method to reduce unwanted fat. The device never touches the body. Vanquish ME is more efficient than Coolscupting and Sculpsure and is great at reducing fat on the torso, back, thighs and arms.
If laxity is more of a concern, ThermiSmooth may be the solution. ThermiSmooth can be used anywhere on the body and utilizes radiofrequency energy to tighten and firm the skin. Like Vanquish ME, ThermiSmooth consists of a series of treatments - usually 4-6. We frequently use ThermiSmooth to tighten lax skin around the eyes, firm up jiggly arms, smooth cellulite, tighten loose abdominal skin, and to rejuvenate sun-damaged skin.
Minimally invasive fat reduction and skin tightening
Kybella - works by dissolving fat in double chins and jowls. Kybella is administered in a series of treatments usually six weeks apart. The number of treatments needed depends on the volume of fat to be dissolved.
Are you interested in reducing fat with our minimally invasive body contouring treatments? Call The Skin Renewal Center in Montrose, Houston, TX at (713) 533-0800 to schedule a consultation today!
ThermiSmooth
ThermiSmooth can tighten the loose, crepe-like skin around the eyes, mouth, jawline, neck, and décolletage. This procedure has no downtime and is divided into 4-6 sessions, lasting 30-60 minutes, once a week. The radiofrequency energy directed to the dermis tightens the skin and stimulates collagen to improve the appearance and integrity of the skin. ThermiSmooth is our "go-to" treatment for sun-damaged face, neck and chest skin. ThermiSmooth complements virtually all of our rejuvenating procedures. It can prolong the duration of action of Botox or Xeomin. Improved dermal integrity enhances the appearance of all of the fillers. The skin thrives when a patient follows ThermiSmooth treatment with a Growth Factor Facial (GFF). The skin becomes tighter and smoother, fine lines and irregular pigmentation fade, and pores diminish in size. Truly transformational!
The photos below demonstrate the effect of four ThermiSmooth treatments.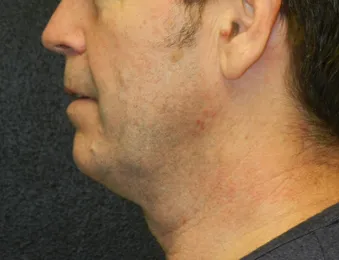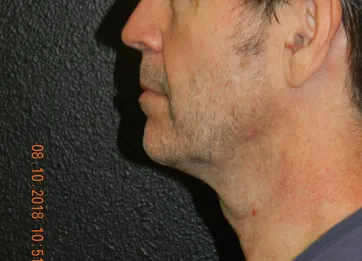 In addition to the neck, ThermiSmooth can tighten skin on the face, arms, abdomen, and legs. It will also improve the appearance of cellulite. ThermiSmooth is virtually painless and has no downtime.